New furniture, pillows, and especially used items may come with an infestation of bedbugs. They don't care if your rich or poor they just want your blood. I bought a new recliner chair they festered in and could get rid of them so into the garbage it went even though I have no chair, no couch and no mattress it just kept spreading. All is bad timing financially too. Don't pass any of the items on for use, or it may come back to
haunt you.



Black pepper
Some Natural Ways to Rid Infestation's of Bedbugs and protections
Indian Lilac or Neem, tree tea oil, lavender oil (don't mix with water) avoid being , bitten use lavendar oil and olive or coconut and apply over body, Black walnut in bath water.

Bed bugs are usually found in the dark. Much like the vampires from Twilight, it seems that they don't do so well in the sun. They also don't need much food. They can survive without blood for well over a year! But bed bugs will actively search for blood, which means that they will find you or your pets if you cannot find them.

There are over 90 species of bed bugs. Some of the more common ones include the "Leptocimex boueti", "Cimex pilosellus", "Cimex hemipterus" and the "Cimex lectularius" (which is often referred to as "the common bedbug"). Bedbugs are also sometimes called red coats, chinches or mahogany flats, depending on which part of the world you are from.


How to Naturally get rid of bed bugs: Baking soda, Naturally use

Diatomaceous earth, 0range peel extract;




Rubbing Alcohol (,90-99%), Manuka oil, tea tree oil or oregano oil, heat, clean all fabric, vacuum, Off has a spray for re-infestations, steam all fabric's, rugs and furniture, Selsun blue on skin bites, Clorex.
Other: Call an exterminator, sleeping with the light on, putting baby oil on after applying alcohol, tying your hair back, saturating bed legs with petroleum jelly or tea tree oil are a few ideas.

The best cream or lotion or gel to use against the bites and itch is the Benadryl spray or anything with diphenhydramine as the main anti-itch ingredient. Calamine lotion doesn't work so well but the diphenhydramine works great on contact and will be your best bet in suppressing the itch; and it doesn't leave any pink blotches on your skin!

Put tape around the foot of your bed. All the way around. Next you may want to put Delta Dust or Moth Balls on the floor of your home.

If you must bomb, Hot Shot is a chemical and fairly non-toxic bomb that uses primarily diatomaceous earth and only requires you to let it sit for 2 hours before opening the windows and letting it vent for about 15 minutes. Then it is safe to re-renter. It isn't very successful in killing the bugs, but it does bring them out of hiding. It is made with the intention of being used in a bedroom so it is really one of the safer bombs to use period. (Closet of clothes and linin need to be done)

Plastic, seal-able mattress cover(s), if you can afford to do so that is; air-tight is what we're looking for so that we can cut off the bugs' air supplies, and contain the ones that are already present so that they may no longer continue their vampiric rampage.

Petroleum jelly (for those whose bed is raised) Dryer sheets under mattress; sheets or both, and steam may work. Still trying. They spray tomorrow.

http://treatmentforbedbugs.com/how-to-get-rid-of-bed-bugs-naturally/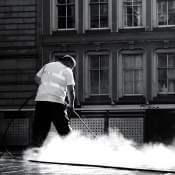 Steaming get rid of bed bugs (rugs)